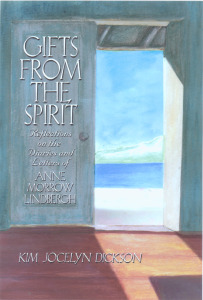 "A beautiful, very wise, and gentle book—immediately important to those who read it, and just the right kind of tribute to my mother." Reeve Lindbergh, author and daughter of Charles and Anne Morrow Lindbergh
How does a woman remain whole and balanced in the midst of the demands of her life and relationships? The central question Anne Morrow Lindbergh posed in Gift from the Sea resonated with Kim Jocelyn Dickson, whose initial introduction to the author occurred when she read her grandmother's 1955 first edition copy one summer vacation between semesters at Princeton Theological Seminary.
Intrigued by the beauty and wisdom of Lindbergh's writing, Dickson launched a search for the balance of her work, which was then largely out of print. Of all Lindbergh's writings, five volumes of published diaries and letters rose to the top and captured Dickson's attention. In them she discovered a fascinating record of Lindbergh's life married to an American icon, set against some of the most important events of the twentieth-century that included her own participation as an aviation pioneer and best-selling author. But the main attraction for Dickson was the compelling inner life of the author. Despite her giftedness, privilege, and accomplishments, Lindbergh wrestled with self-doubt and gave voice to the struggle many of us face, which is the courage to believe in ourselves and live boldly out of that.
In Gifts from the Spirit: Reflections on the Diaries and Letters of Anne Morrow Lindbergh, Dickson mines the gems of insight from Lindbergh's diaries and letters and, in sharing their relevance to her life, encourages us to understand our own. Wisdom on love, friendship, loss, passion, and parenthood are just a few of the themes touched on in entries such as "The Pilot, the Poet, and their Passion," "The Must of Mutuality," "Embracing Grief as a Path to Peace," "How Intimacy is Possible," and "Our Legacy to our Children." Readers who value reflection and seek to cultivate awareness of their inner lives are sure to find inspiration here. Those familiar with Anne Morrow Lindbergh and Gift from the Sea will find their understanding deepened, and readers unfamiliar with her will be delighted in their discovery.
Available now: